04 May 2021
|
Jersey Heritage has recently completed the purchase of most of a large hoard of Celtic coins and jewellery, much of which has been 'missing' for the past 64 years, reports Chris Rudd.
The hoard was originally found on 22 January 1957 in the parish of Grouville on the eastern coast of Jersey, by a 17-year-old ploughman, Peter Langlois, who emigrated to Australia with his parents about three years later.
Known as Le Câtillon I and comprising an estimated 2,500 coins, the hoard was discovered not far from where a much larger hoard of 70,000 coins, known as Le Câtillon II, was found in 2012 by metal detectorists Reg Mead and Richard Miles.
Jersey Heritage has paid £38,000 for 1,600 coins and 35 pieces of jewellery from the 1957 hoard.
---
SIGN UP TO THE FREE NEWSLETTER TODAY and we'll send you news, views and coins guides direct to your inbox. It's completely free and a great way to keep up to date with the very latest new coins and enter our latest competitions.
---
Jon Carter, Chief Executive of Jersey Heritage, described the purchase as 'really good news'. He said: 'It will help our research into understanding what was happening in the Channel Islands during the Iron Age.'
Content continues after advertisements
Dr Philip de Jersey, the States of Guernsey archaeologist who advised Jersey Heritage on its new acquisition, said: 'The purchase of these coins and jewellery from the 1957 find is particularly important because these items were never properly recorded at the time, and now at last we have the chance to examine them in detail.'
Elizabeth Cottam, director of Chris Rudd, the Celtic coin specialists who valued the 2012 hoard, Le Câtillon II, added:
'I think Jersey Heritage got a bargain, paying only £38,000 for 1,600 Celtic coins. That's less than £24 per coin, never mind the 35 pieces of jewellery. In 2003 we sold a small silver coin from the 1957 hoard for £275. Today it would be worth over £400.'
The coins and jewellery will now be conserved by Jersey Heritage and prepared for display alongside items from the Le Câtillon II 2012 hoard.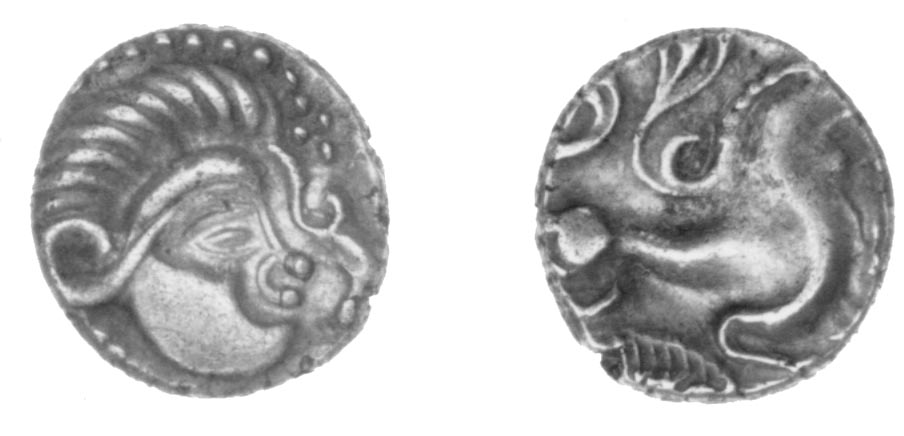 Image caption: Jersey Mini Moon Head silver quarter stater, c.60-50 BC, 12mm, 1.35g, ex Le Câtillon I hoard, Jersey, 1957. Sold by Chris Rudd, 2003, for £275.